Hotel Tea County

Print this page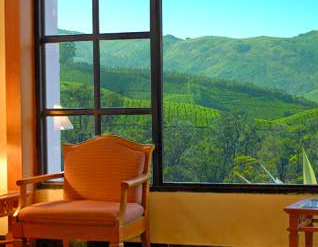 Cosily nestled right in the middle of two hills is Tea County, your official host in Munnar. Here, every room offers mesmerizing views. You can enjoy the mist rolling down in the warmth of luxuriously furnished rooms. And it is literally a honeymooner's paradise. Those who want to venture out may bicycle down mountain trails, paraglide over the valleys, go trekking, climb rocks, try to catch a rainbow trout or spend a day in a tea plantation. This is also an important location for ecotourism activities especially centered around Eravikulam National Park, Chinnar Wildlife Sanctuary and shola forests like Pampadum Shola National Park and the newly created Neelakurinji Sanctuary. There are opportunities to sight wild animals especially Nilgiri tahr (mountain goat), elephant, bison etc.
Hotel Name :
Tea County
Type :
Hotel
Category :
Group Hotels
Location :
Munnar
Facilities :

Ayurveda therapies
Health club
Conference hall
Wi-fi facility
Boardroom
Ayurvedic herbal body toning parlour
Restaurant with dancing floor
Beer parlour
Indoor games
Para-gliding and Trekking arrangements
Car hire
Laundry
Doctor-on-call
Currency exchange
Day tours

Conference Options
 
 
 
 
Theatre
Classroom
'U' Shape
Round
150
50
35
35

Accommodation :
Suite, Premium, Deluxe
Sight :

Eravikulam National Park: The 97-sq km park is situated in the Devikulam Taluk and is home to the Nilgiri Tahr. The Anamudi peak (2695 m) is located in the southern region of the park. Tourists are generally permitted to visit Rajamalawhich lies in the tourism zone.

Rajamala: This is the natural habitat of the Nilgiri tahr. Nearly half of the world population of this rare mountain goat (Hemitragas hylocres), which is an endangered species is now found here. Visitors are able to watch the Nilgiri Tahr very close in this park.

Mattupetty: Situated at a height of 1,700 m, Mattupetty is known for its highly specialised dairy farm - the Indo-Swiss Livestock Project. Different varieties of high-yielding cattle are reared here. 
The Mattupetty Dam, just a short distance from the farm, is a very beautiful picnic spot. The sprawling Kundala Tea Plantations and the Kundala Lake are other attractions nearby. Boating facilities are available here.

Nyayamakad: Located between Munnar and Rajamala, Nyayamakad is a land of breathtaking waterfalls. The waters cascade down a hill from a height of about 1,600 metres. The enchanting surroundings make an excellent picnic spot and trekking point. Gravel Banks, the delightful trout fishing site, are tucked away in a remote corner of Nyayamakad Estate.

Pothanmedu: Pothanmedu offers an excellent view of tea, coffee and cardamom plantations in Munnar. The rolling hills and the lush mountains here are ideal for trekking and long mountain walks.

Devikulam: This idyllic hill station with its velvet lawns, exotic flora and fauna and the cool mountain air is a rare experience. The Sita Devi Lake with its mineral waters and picturesque surroundings is a good picnic spot.

Pallivasal: This is the site of the first hydro-electric project in Kerala and a place of immense scenic beauty.

Attukad: A panorama of waterfalls and rolling hills, Attukad, located between Munnar and Pallivasal, is a feast for the eyes. The place is also ideal for long treks.

Chithirapuram: With its sleepy little cottages, bungalows, old playgrounds and courts, Chithirapuram still exudes an old world charm. The Pallivasal Hydel Power Project is situated here. The hill town is also famous for its picturesque tea plantations.

Mount Carmel Church: Established in 1898, this was the first Roman Catholic Church in the High Ranges.

Lockhart Gap:  This is an ideal place for adventure tourism and trekking. The fresh mountain air, the mist-clad hills and panoramic view make it worthy of a visit.

Blossom International Park: Sprawled over 16 acres, this park has a garden with a profusion of blooms and a plethora of activities for adults and children, including boating, cycling, roller skating, games etc.

Echo Point: This scenic place gets its name from the natural echo phenomenon here. Echo Point is on the way to Top Station from Munnar.

Power House Waterfall: This waterfall on the way to Thekkady from Munnar cascades down a steep rock 2000 m above sea level. The spot is enriched with the scenic western mountain ranges and is an ideal place for a break on the way to the Periyar Wildlife Sanctuary in Thekkady.

Kundala: Kundala is a picturesque town on the way to Top Station. The Golf Course which belongs to Tata Tea Ltd. is located here. The Kundala artificial dam, known as Sethuparvathipuram Dam, is another attraction here. Aruvikkad waterfall is also near Kundala.

Anayirankal: This place is a lush green carpet of tea plants. The Anayirankal Dam is surrounded by the Tata Tea Plantation and evergreen forests. It is an ideal picnic spot and a boat ride on the splendid reservoir is an unforgettable experience.

Marayoor: This is the only place in Kerala that has a natural growth of sandalwood trees. Here also one can see wildlife. A sandalwood processing centre and a depot are located here. A children's park spread across a hectare of land under the canopy of a single banyan tree here is an attraction to tourists.

Muniyaras (dolmens): The ancient caves (muniyaras) with murals and relics from the Neolithic Age are located in this region. The place is of archaeological importance.

Thoovanam falls: This enchanting waterfall near Marayoor is worth visiting.

Tea Museum: India's only tea museum run by the Tata Tea traces the evolution of the tea industry in Munnar from the 1880s. It houses an interesting array of relics and artefacts from the past.

Top Station: 1,700m above sea level, this is the highest point on the Munnar-Kodaikanal Road. The rare Neelakurinji flower (Strobilantheskunthiana) belongs to this region. This plant blooms once in every twelve years bathing the hillsides in blue. Top Station also offers a panoramic view of the neighbouring State of Tamil Nadu.

Chinnar Wildlife Sanctuary: Situated on the Tamil Nadu border, the Chinnar Wildlife Sanctuary is spread over 90.44 sq. km. Most of the animals found in the South India region can be spotted in this forest. These include the grizzled giant squirrel, champal squirrel, elephant, sambar deer, gaur etc.
Hotels in Kerala