Hotel Saj Lucia

Print this page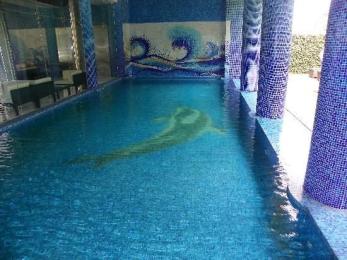 Welcome to Hotel SAJ Luciya, one for the foremost Four Star Hotels Luxury Hotel in Kerala, which is listed as one of "the destination to see in a lifetime". The hotel is situated in the heart of Trivandrum within the Fort walls of the richest temple in the world "SREE PADMANABHASWAMY TEMPLE". The proximity of the hotel is 3 KM from International Airport, 1.5KM from Central Railway Station and 1 KM from the Central Bus Station. We are the nearest hotel to "Attukal Devi Temple" which has the World Record for the largest gathering of women devotees on a single day "Pongala Day"
The hotels provides you with well appointed rooms for accommodation with Wi-fi connectivity, multi-cuisine restaurant, a quality bar, Business Center, well maintained swimming pool, 24 Hrs room service, 24 Hrs Coffee Shop an extensive Banquet Hall and a Board Room for Conference, Bookshop, Travel Counter and Health Club.
Accomodation -
Saj Luciya offers some of the best facilities available in Thiruvananthapuram for travellers-100 centrally air-conditioned and superbly furnished rooms and suites. Luxury suites, executive suites, executive rooms and standard rooms. All rooms have 24 Hour Cable TV- where you can surf all the channels available on the cable network. Plus
The Hotel Saj Luciya boasts of about 70 Centrally air-conditioned and elegantly furnished rooms categorized into Luxury Suites, Executive Suites and Executive rooms. The other facilities offered by the hotel are:
A constant supply of hot and cold water.
Laundry and Dry Cleaning facilities
Room Service.
Telephone with STD and ISD facilities .
Safe Deposit.
Foreign Exchange-currency exchange desk.
Secretarial Services.
24-hour doctor on call.
Other luxuries you can avail of in the hotel are:
A beautifully designed swimming pool with separate areas for adults and children A state-of-the-art business center with Internet, e-mail, Fax, computer, Photocopy and Secretarial facilities

Conferencing facilities to meet corporate needs .
Car Rental and Travel Desk.
A health club with sauna, Jacuzzi, gymnasium.
The Hotel SAJ Luciya have experts masseuse offering traditional Kerala oil massages.
A bookshop with a wide selection of travelogues and other books, A conference room for party's and an adjacent shopping center to pick up antiques and souvenirs are all part of Hotel SAJ Luciya's charm.
Hotels in Kerala