Aqua Serene Quilon

Print this page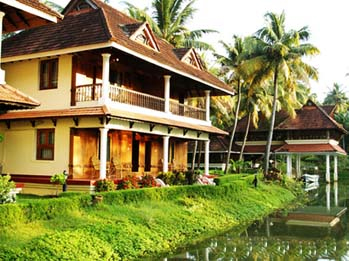 Amidst the picturesque landscape of Paravur, Kerala, lies the unexplored paradise called Aqua Serene. The backwaters surrounded by thick foliage and pleasing climate at the backdrop helps you to unwind. Known as Aqua Serene due to the azure waters around it, the resort is the ideal place to spend your vacation peacefully.
65 kilometers from Thiruvananthapuram International Airport Aqua Serene can be reached further by road to Ithikkara Jetty and a boat transfer to the hotel. Stepping into Aqua Serene lounge you will be overwhelmed with the warm welcome and its splendid architecture overlooking the serene water will enthrall you.
Accommodation at Aqua Serene is private and secluded. Premium and deluxe cottages with slopping red roofs, sun filled porches, wooden interiors bestow them with a dreamy effect. The main attraction of Aqua Serene is definitely its swimming pool within a natural pool.
Aqua Serene offers you a choice able selection of food. Both Indian and international dishes are offered for breakfast, lunch and dinner. Snacks and drinks are also provided as per your requirement.
The resort provides one with ayurvedic treatments. Magic of fragrant medicinal oils and skill full hands of a masseur can rejuvenate you magically. Pizhichil, Dhara, Navarakizhi, Sirovasti, Sirolepa and Mathravasthi are the various treatments offered at Aqua Serene.
Hotels in Kerala